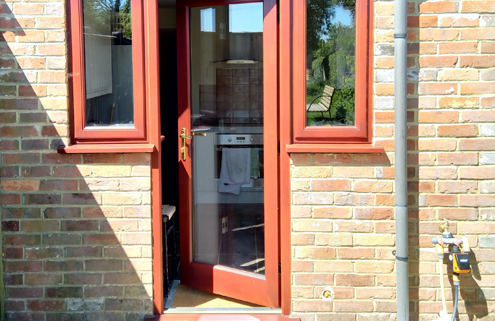 I live in a terraced two-up, two-down cottage built for farm-workers in the 19th century. It was done up about thirty years ago for rental, extended for a bathroom and a kitchen with double-glazed plastic windows fitted.
I wanted hardwood double-glazed windows in my house and having had a bad experience when the first one was done, I searched hard for a new supplier for the bedroom windows. I used google with various detailed searches until I found Joinery for All Seasons.
From the first visit by Daryl, their professionalism and craft knowledge has been evident throughout. He studied the existing hardwood window as a guide to my taste, sent a quote promptly and I was very happy to go ahead. I visited their workshop ahead of the installation which re-confirmed my good impressions of the company. They duly installed two bedroom windows just as I wanted them!
When it came to refitting my kitchen, I talked to Daryl about wanting to move the door and there was no problem at all. They would look after the building work, so I asked him to quote for the door, and three windows in the kitchen plus two other windows.
They were key to the re-fit of my kitchen and it was all scheduled around their work. They were on time and they have done a marvellous job. They were all friendly and careful just as they had been previously. It is a very special pleasure now to look out at my garden through my beautiful new door and windows which match all the rest of the house.
Most definitely I would recommend Joinery for All Seasons and have talked about them with friends and family.
Tony – Tibbles
https://joineryforallseasons.co.uk/wp-content/uploads/2020/06/testiTony.jpg
400
495
Helen
https://joineryforallseasons.co.uk/wp-content/uploads/2015/06/Joinery-For-All-Seasons-300x230.png
Helen
2020-06-26 09:03:35
2020-06-26 09:11:59
Most definitely I would recommend Joinery for All Seasons and have talked about them with friends and family