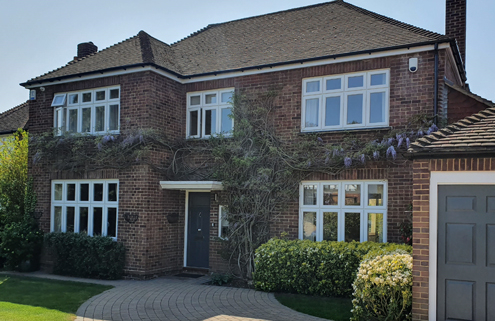 I came across Joinery For All Seasons completely by chance through a Google search. I had originally kept my search to the Bromley area but extended it to the Kent countryside when I didn't find anything that excited me. I had already visited two showrooms nearer to my home address but I wasn't impressed with the doors they had to offer, they were mainly composite.
One of the showrooms had a lot of hardwood doors but something seemed to be missing and they looked to be off the shelf. I wanted something that was going to complement my home and give it kerb appeal. None of what I had previously viewed did that. 
Next came the visit to the factory
I actually visited to get some ideas for the style of my front door (and a feel for the company) as I didn't really know what I wanted and the first thing that struck me was the smell of sawdust and that it was actually a working site. I was a little early for my appointment but the staff working on the frames in the middle of the sawdust took me upstairs to wait and made me a coffee. I actually walked through sawdust! I didn't know these types of places existed!. My husband would have usually been with me but unfortunately, he was unable to accompany me that day. I went back raving about how I visited a working joinery workshop and that he would have loved it. John was disappointed not to visit.
Our Project
Our project was as it turns out just a replacement front door and a one new window next to the front door. In the great scheme of things that's a simple job but to me it was more than that. We have always found the 'buying experience' to be just as important as the product itself. If you enjoy the experience of purchasing an item then you view it with a smile on your face for many years to come. We didn't know what we wanted and asked Daryl for his opinion on what would look good on our 1950's home when he came to us for our site visit. We needed a fair bit of light to come in as the hallway would otherwise have been dark and Daryl effectively sketched out an idea for us on paper which we took to immediately. He also walked up and down our road with us looking at other styles and colours available on similar properties, so it was quite the expedition. At no point were we made to feel that it was just a front door and we loved the help we received and were committed to the job at that point. He went the extra mile, it was personal service and we felt excited. 
The selection process
Well who knew there was a whole world of doors out there? A variety of wood types, hinges, locking mechanisms, door furniture, stain and paint finishes!!! Daryl and Natalie guided us through all of the choices. We chose sapele wood with a paint finish. Painted wood samples were sent to us and I applied for many more colour samples from the paint companies recommended to us. We went for a grey for the outside with lovely stainless steel furniture and a beautiful conservation light moss colour for the inside. Again, who knew that you could have the door in 2 colours! I spent countless hours holding up colour swatches against my hall decor and the same against the brickwork for the outside. Our new door has a quality feel to it especially when you close it. The design maximises the light coming into the hallway and no more draughts! (Our previous door used to stick in the summer and felt draughty in the winter)
Completion
I am delighted with our completed front door and window installation!
Joinery For All Seasons provide an excellent, personable and responsive family run service. The door suits our home, the price was excellent and the buying experience was second to none. We highly recommend Joinery For All Seasons and would like to extend our thanks to Daryl, Natalie and all the team! 
Carolyn – Bromley
https://joineryforallseasons.co.uk/wp-content/uploads/2020/06/testiCarolyn.jpg
400
495
Helen
https://joineryforallseasons.co.uk/wp-content/uploads/2015/06/Joinery-For-All-Seasons-300x230.png
Helen
2020-06-25 16:27:35
2020-06-26 09:00:08
I am delighted with our completed front door and window installation!